The Best Inofia Twin Size Mattresses
Getting a good night's sleep is one of the most satisfying feelings in the world. Sadly, many of us simply don't sleep as well as we should. There are many reasons for why this is, yet more often than not, you'll find that a bad mattress is to blame. A comfortable and supportive mattress will do wonders for your sleep pattern, which is why we're helping you to choose the best twin-size mattresses on the market. Here are our best twin size mattresses.
Our Best Twin Size Mattresses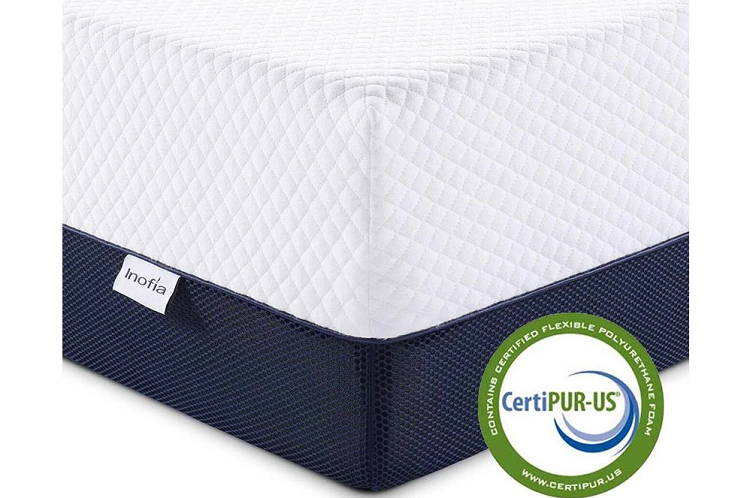 The Inofia 10-inch twin-size memory foam mattress is perfect for those of you who sleep on your sides. Side-sleepers often experience neck, shoulder, back, and hip pain, which can affect your overall quality of life. Because of the unique design of this twin-size mattress however, you'll find that pain and discomfort caused by side sleeping is a thing of the past.
High Quality Materials You Can Trust
If you're looking for the best sleep yet, our mattress is perfect. It provides the following:
Breathable cover – The breathable cover on this twin-size memory foam mattress not only offers comfort and support, but it also provides you with a cool night's sleep thanks to its unique airflow design to allow your skin to breathe as you sleep.
Eco Gel memory foam – For the ultimate sleep experience, this eco gel memory foam layer creates the feel of sleeping on a cloud. You'll be so comfortable you won't want to move.
Smart Comfort foam – Our smart comfort foam is one of our most innovative creations. This layer of foam adapts to the sleeper, shaping and moulding itself around their body to give additional support and comfort.
Ergonomic support foam – Our ergonomic support foam is what really sets this mattress apart from others on the market. It helps to keep the spine aligned, it takes strain and stress off of your pressure points, and it helps to ensure that pain and discomfort caused by side-sleeping becomes a thing of the past.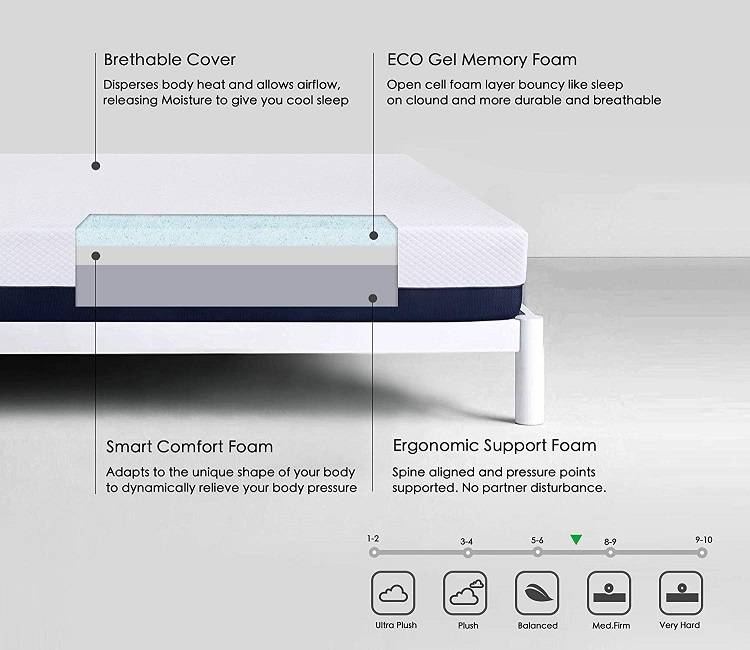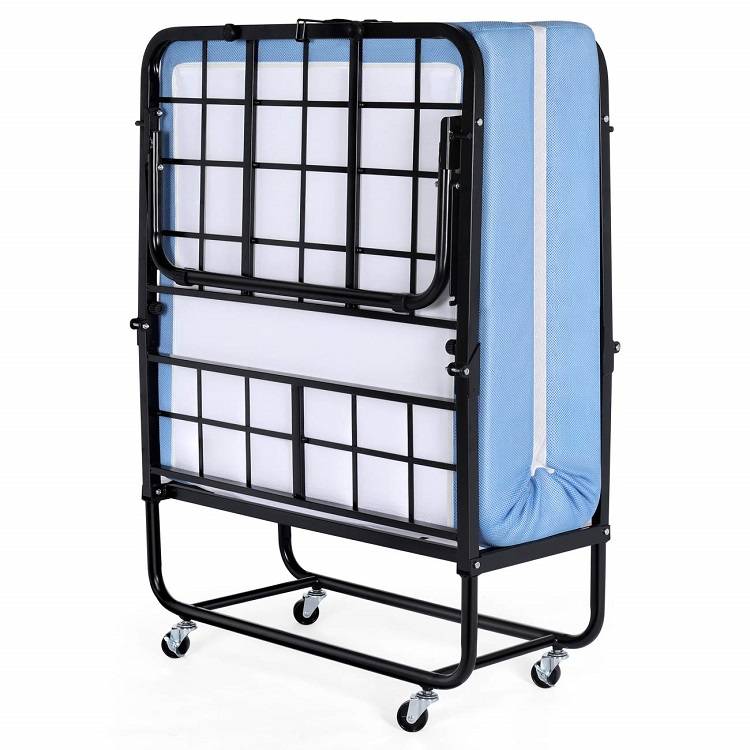 If you're looking for a way of getting the best night's sleep possible, whilst simultaneously saving space in the process, this mattress is ideal for you. This space-saving bed and mattress folds neatly away when not in use, providing you with more space and freedom in the comfort of your own home.
What sets this bed apart?
This folding bed and memory foam mattress is turning heads for all of the right reasons. Customers can't get enough of this mattress, and it's easy to see why. Here's a look at what makes it so special.
Save space – First and foremost, the main USP associated with this bed and mattress is the fact that it saves space. When not in use, it folds away neatly in seconds.
Trolley included – You may be worried that retracting and unfolding a bed and mattress, and storing it out of the way when not in use is going to be a challenge? Well, you need not worry because Inofia have included a wheeled trolley system so that the mattress and frame can be wheeled in and out of anywhere in the home the bed is needed.
Great for guests – If you've got company staying over but are limited in terms of sleeping space, don't relegate them to the hard sofa, instead, simply wheel out the Inofia twin-folding bed with 5-inch memory foam mattress, and assemble the bed in seconds.
Light and comfortable – This durable and hard-wearing bedframe with trolley is incredibly light in weight, so retracting and assembling the bed is as simple as ABC. With the thick 5-inch memory mattress included, whomever is lucky enough to sleep on the bed will have the best sleep in years.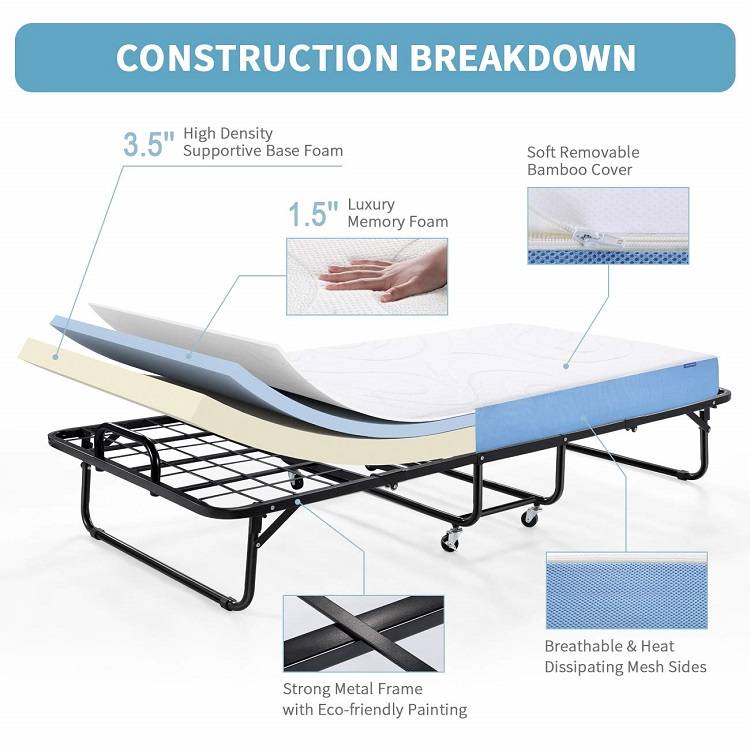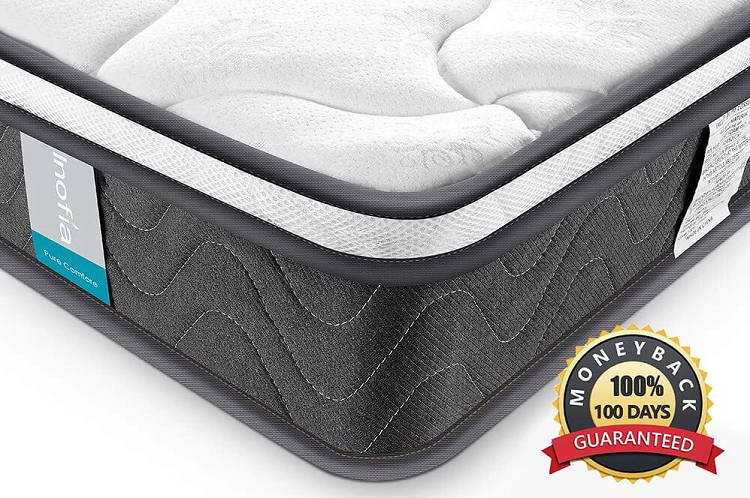 As well as layer upon layer of memory foam, this mattress comes complete with individual pocket springs which are designed to work independently to provide just the right levels of tension and support. They help to distribute the sleeper's weight evenly, whilst simultaneously contouring themselves around their body to provide support and comfort for the duration of the night.
A pain free night
There's nothing worse than eventually getting to sleep at night, only to awaken the next day stiff and sore as a result of a poor mattress. Our hybrid mattress was designed in conjunction with orthopaedic assistance, in order to provide just the right levels of balance, support, and weight distribution as you sleep. As your joints and pressure points are cushioned and supported, this will allow you to awaken the next day refreshed, and completely free of any pain, stiffness, and discomfort.
Six layers of pure memory foam heaven
We've provided six, yes, six, layers of comfort and support when designing this mattress, so it's little wonder why it's proving to be such a hit:
Breathable cover.
Comfort-feel foam.
Air flow wave foam.
Non-woven fabric layer.
Individual pocket springs.
A basic memory foam layer.
Key features
A few key features of this mattress include:
100-night risk-free trial.
6 layers of comfort.
3D knitted dual-layer breathable fabric cover.
Firm and supportive.
Helps ease pain and discomfort.
Promotes a good night's sleep.
Keeps you cool in warm temperatures.
Fire-retardant barrier.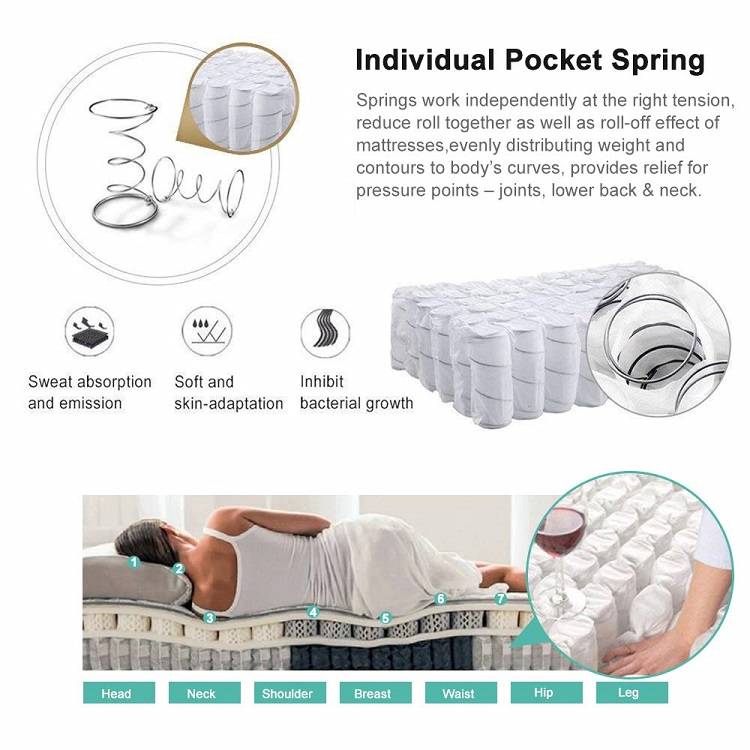 ---
if you buy Inofia's twin size mattress. You will get excellent quality and professional after-sales service, Inofia's all mattresses are available:
Free shipping service.
100 nights free trial.
10 years free warranty service.