Queen Size Mattress
Our Best Queen Size Mattress Series:
---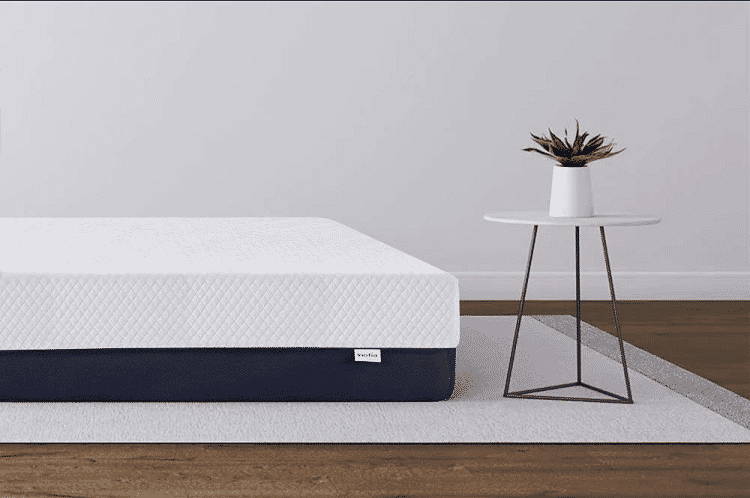 If you're looking for a simple and straightforward memory foam mattress that does precisely what it says on the box, then look no further than the Inofia 10-inch memory foam Queen-size mattress. This is the perfect mattress for 'side sleepers'. A side sleeper, as the name implies, is an individual that sleeps on their side, as opposed to their back or front. Sleeping on your side results in your shoulders, back, neck, and hips needing support. That's where our memory foam mattress comes in so handy.
Memory foam can make such a difference when it comes to getting a good night's sleep, which is why we've made sure to use the best designs possible. Our memory foam mattress aligns itself with the curves and contours of your body, effortlessly providing comfort and support where you need it the most. Not only does the double-layered design provide support, but it is also incredibly soft and comfortable. Best of all is the fact that, because of its unique design, if you do sleep next to a partner, no matter how much they toss and turn, you'll barely notice they're moving at all.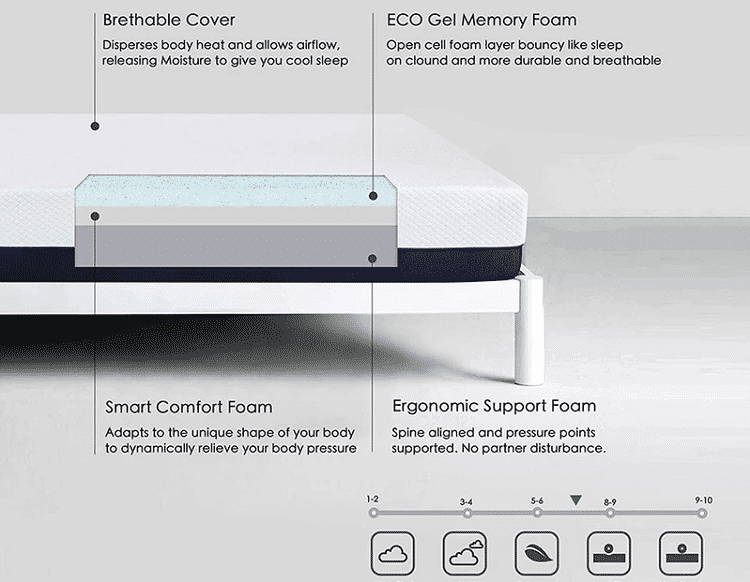 Some key features of the 10-inch Queen-size memory foam mattress include the following:
Three-layered memory foam.
Eco-gel memory foam.
A breathable cover.
Ergonomic support form.
Smart comfort foam.
Risk-free 100-night free trial.
Affordable.
Next up we have the 12-inch hybrid innerspring queen-size mattress. This mattress is a little more expensive than some of the mattresses on our list today, but our customers agree that it is money well spent.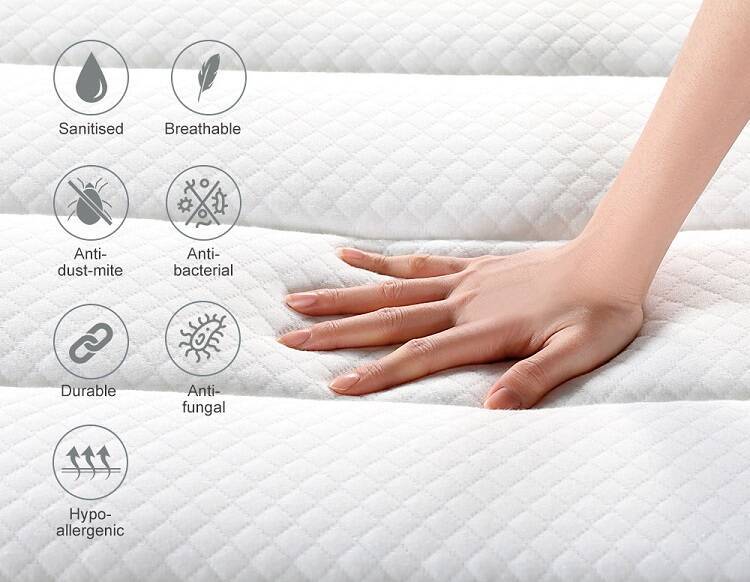 Some key features of the Queen-size Hybrid Innerspring mattress include the following:
Superior comfort and support.
Pocket springs and memory foam combo.
Superior motion isolation.
Easy to maintain.
Edge support strengthening to prevent sleepers from rolling off in the night.
Here at Inofia, we understand that not everybody has the budget, nor indeed, the requirement for a brand-new mattress. That's why we developed our innovative new 2.5-inch memory foam mattress topper.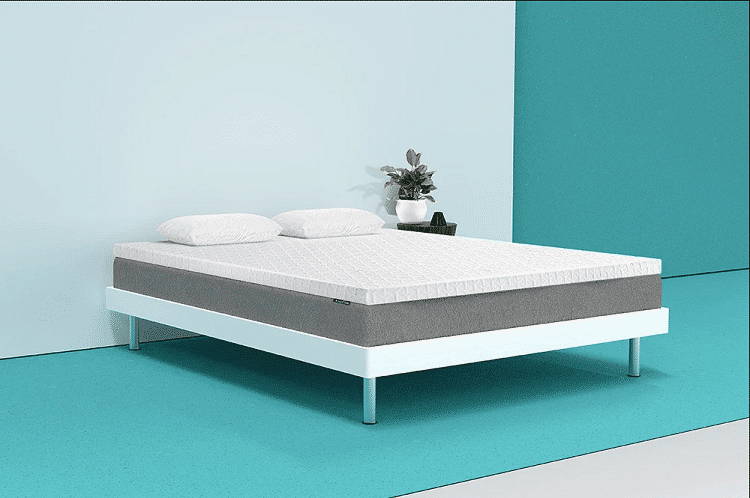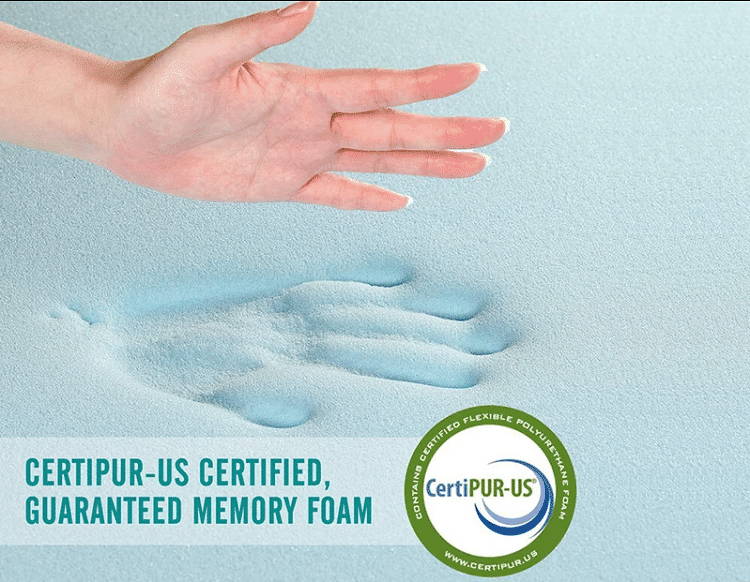 Comfort for a price you can afford
One of the best things about our mattress topper is the fact that it is affordable, meaning that everybody can potentially benefit, even if funding is tight.
The solution to a poor mattress
If your mattress is causing you problems and you're struggling to sleep at night, our mattress topper offers you the ultimate solution.
Mattress too soft? – If your mattress is too soft, this can result in poor spinal alignment, which in turn can lead to back issues and poor posture.
Mattress too firm? – If your mattress is too firm, only the heaviest parts of your anatomy will be supported. This can again result in misalignment of the spine and can cause imbalances and pressure points upon the pelvis, the back, and the shoulders.
Inofia Mattress Topper
If your mattress is in need of assistance but you've not the budget to replace it just yet, our mattress topper is ideal. It will:
Contour to your natural shape.
Provide comfort and support.
Ensure that your spine is perfectly aligned.
Evenly distribute your weight.
Relieve pain and discomfort and ease pressure points.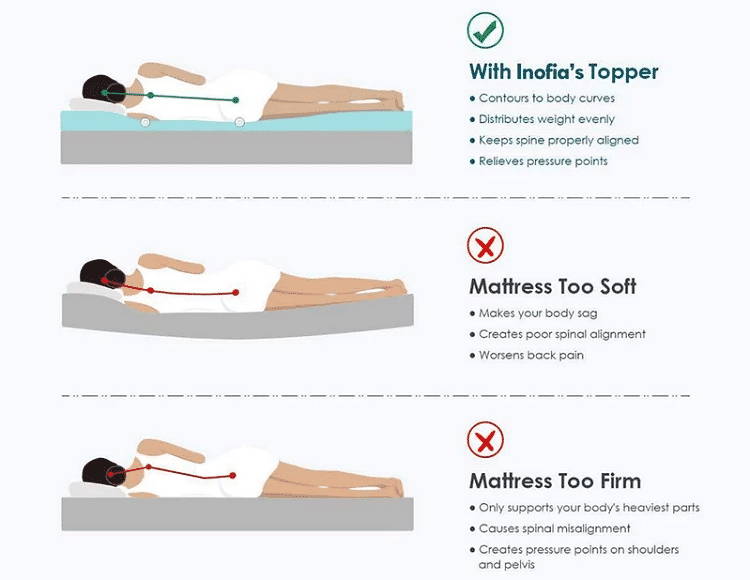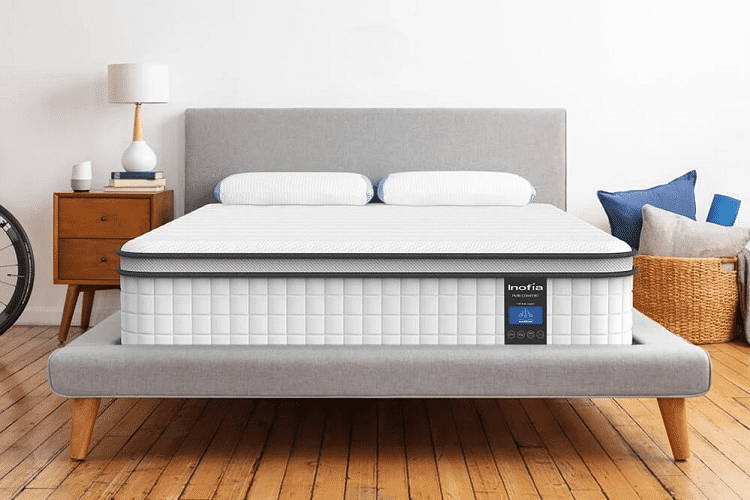 Here we have one of the most popular Queen-size mattresses that we do. This hybrid mattress in a box offers superior comfort and support when you need it the most.
Get the sleep you deserve
Cool and hypoallergenic – One of the main benefits of this mattress is the fact that it is hypoallergenic, so you needn't worry about allergens damaging your health, interfering with your breathing, and making life more uncomfortable than it need be. What's more, it's designed to keep you cool, thanks to its side net cloth which dissipates heat effortlessly. This increased breathability means that you benefit from the coolest night's sleep ever during warm weather. It features a smart airflow layer and a dual-cool fibre layer making this the perfect mattress for those that are typically too warm in bed.
Ease the pressure – This mattress features certi-PUR-US certified memory foam which shapes and moulds itself to the curves and contours of your body to ease the pressure from where you need it easing the most. The end result is a wonderful night's sleep, and a nimble, pain-free morning.
Support and comfort when it matters – Because of the unique design of this mattress, coupled with its firm and sturdy high density base, not only will you sleep soundly at night, you can also rest easy in the knowledge that your body, your muscles, your bones, and your joints are being cared for whilst you sleep. We certainly think that that's worth celebrating.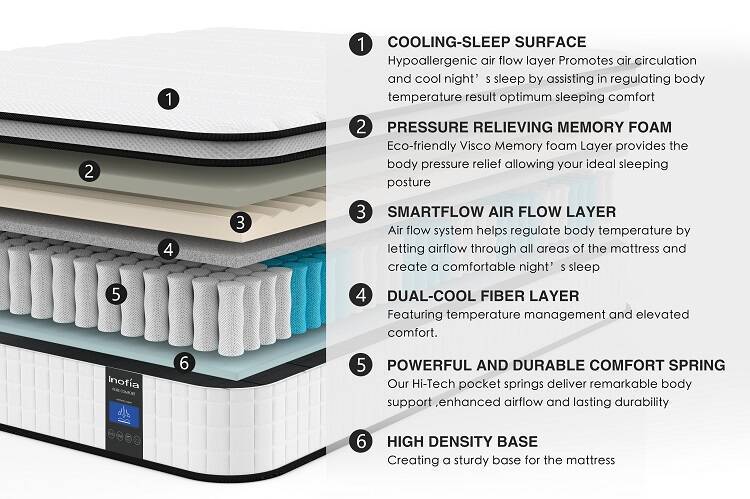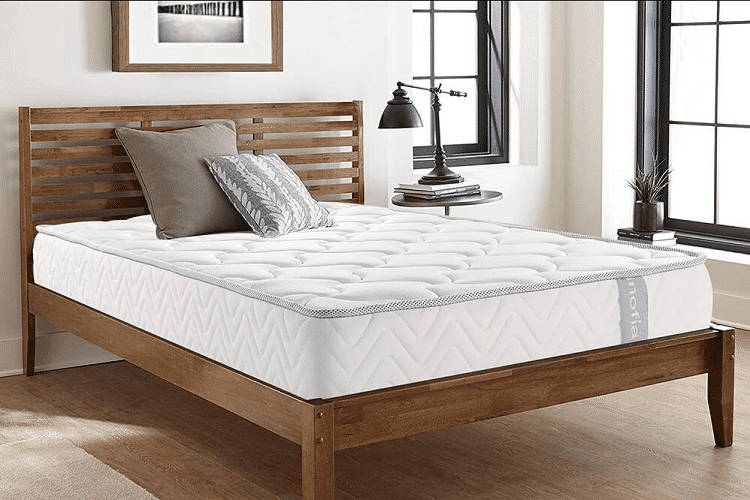 Coming complete with a multi-layered memory foam design, along with a temperature-regulating gel layer, this pressure-relieving queen-size memory foam mattress is one of our best-sellers and it's clear as day as to why that is.
8-inches, and 4 layers, of memory foam goodness!
One of the main issues with most foam mattresses is that they're simply too soft, and people sink too deeply into them. This mattress, however, is different. It provides just the right balance of firmness and softness, making it hugely popular. With several layers of comfort, here's a quick overview.
Breathable cover – To begin with, the mattress itself is covered with a breathable, hypoallergenic cover. This cover not only adds yet another layer of comfort, it also helps to wick away moisture and dissipate heat to keep you cool in bed.
Eco memory foam – Directly below the cover, we have our awesome eco memory foam. This open cell layer of foam is firm, yet soft and bouncy, giving the feel of sleeping on a cloud.
Smart comfort foam – The real comfort, however, is provided via our smart comfort foam layer. Here, the foam is able to adapt to the shape of the sleeper and mould itself to their frame, giving comfort and support in all of the right places to relive pressure and ease stiffness.
Ergonomic support foam – The thickest layer of foam comes from our ergonomic support foam layer. This layer of foam helps to align the spine, it eases pressure points, and it ensures that you experience no disturbance by partners that can keep still.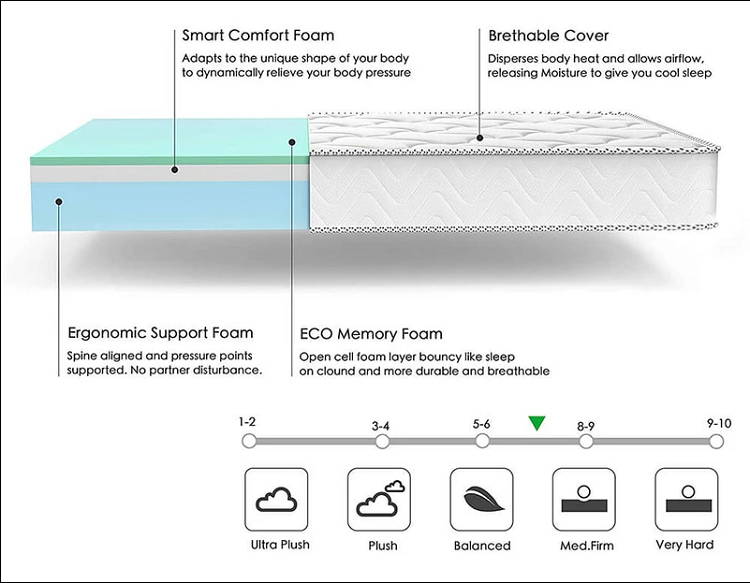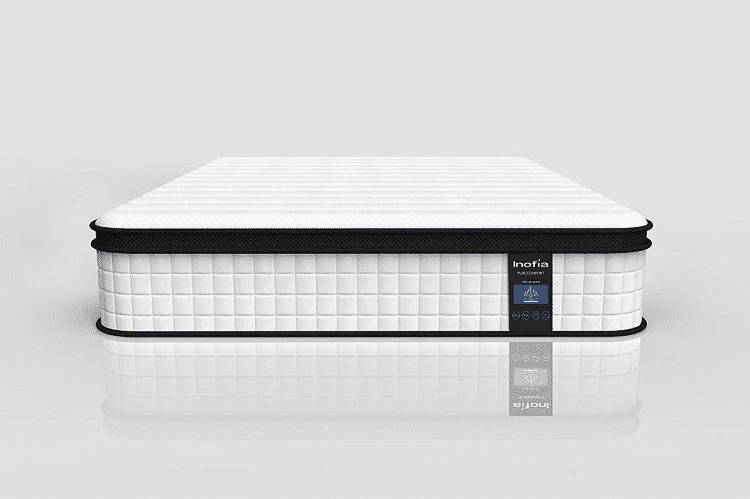 Finally, we have our 10-inch queen-size hybrid mattress featuring a triple-layer of uniquely designed foam, coupled with pocket sprung coils to provide the best sleeping experience yet.
This triple-layered hybrid mattress features 3 layers of memory foam, along with a layer of pocket sprung coils to provide superior motion transfer to give you your best sleep yet.
Motion transfer like you've never seen before – Because of the pocket sprung springs and the nine-zoned coil support, the mattress is able to offer fantastic motion transfer whilst you sleep. The coils are able to adapt and correspond to different parts of your body as you move, ensuring that your weight is distributed evenly as you sleep.
Eco-friendly materials – With our top layer being made from hypoallergenic materials which are eco-friendly, this mattress is anti-dust mite, hypoallergenic, and is good for the environment.
Three layers of foamy sleepiness – Featuring not one, not two, but three layers of memory foam, this hybrid mattress could well be our most comfortable yet. The first layer is a 1.5-inch gel-infused layer to help keep you cool. The next layer is a 2-inch layer for comfort, and the third layer is a 6.5-inch layer of high-density ergonomic foam to provide the ultimate in comfort and support.
Removable zip cover – Another awesome benefit of this mattress is the fact that the wonderfully soft and breathable top cover is fully removable and machine washable. That means that you can simply unzip it, throw it in the wash, dry it, and replace it before you change your sheets, helping to keep the mattress fresher than ever.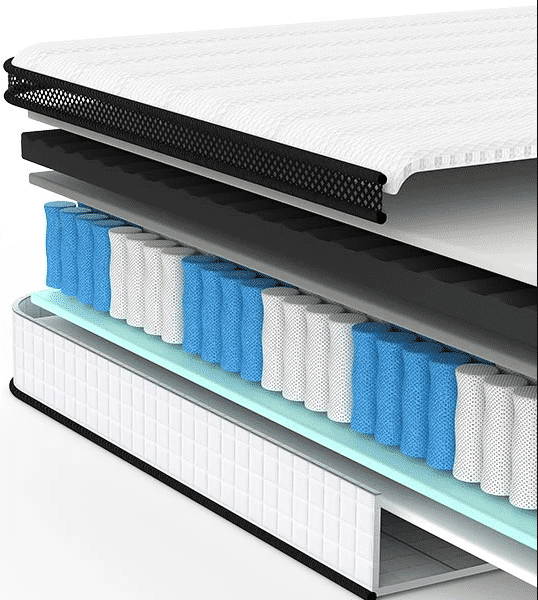 ---
if you buy Inofia's queen size mattress You will get excellent quality and professional after-sales service, Inofia all mattresses are available:
Free shipping service.
100 nights free trial.
10 years free warranty service.
You can also leave a message in the form below, we will answer your questions at any time.